My daughter was getting tired of the same'ol same, I guess, so she asked that I make her a stawberry cake for her birthday. Suuure honey, I said! And off I went searching high and low for a cake like that.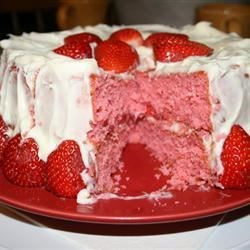 I came across one I really liked and it has over 200 positive reviews. Must be good then, right? Right. So here is the recipe, however, some changes were made so here is the recipe
I
followed:
Ingredients:
• 2 cups white sugar
• 1 (3 ounce) package strawberry flavored gelatin
• 1 cup butter, softened
• 4 eggs (room temperature)
• 2 3/4 cups sifted cake flour
• 2 1/2 teaspoons baking powder
• 1 cup whole milk, room temperature
• 1 tablespoon vanilla extract
• 1/2 cup strawberry jelly (we used smuckers brand)
Directions:
1. Preheat the oven to 350 degrees F (175 degrees C). Grease and flour two 9 inch round cake pans.
2. In a large bowl, cream together the butter, sugar and dry strawberry gelatin until light and fluffy. SEPARATE the whites and yolks… add only the yolks, mix well.
3. Whipped the whites into soft peaks and folded them in at the end.
4. Combine the flour and baking powder; stir into the batter alternately with the milk. Blend in vanilla and strawberry jelly. Divide the batter evenly between the prepared pans.
5. Bake for 25 to 30 minutes in the preheated oven, or until a small knife inserted into the center of the cake comes out clean. Allow cakes to cool in their pans over a wire rack for at least 10 minutes, before tapping out to cool completely.
I love how you can put chocolate frosting, or serve with vanilla ice cream. So versatile! And it really truly tasted very strawberry-tastic!
Original recipe can be found here. Photo taken from allrecipes.com where the original recipe is found.